Gift Certificates available for any Occasion
Gift certificates are now available at Alexa Studios. These are perfect for those 'hard to buy for' loved ones in your life or maybe for someone who has everything else in the world.
Our gift certificates are available for any photo session we offer, which also includes PETS. For Pet photography, please purchase from this page.
There is a $0.75 cent surcharge on all gift certificates. There are NO refunds on the certificates and they may only be exchanged for any photographic service we offer. Gift Certificates have no cash value and non-refundable. They may only be used toward a photo session or products purchased associated with one of our photo sessions. Our certificates do not have an expiration date.
This page is for Paypal use only, if you need another means of payment, please use the contact button above and let us know how we may assist you.
Below is a sample only. Your gift certificate will reflect the holiday or celebration of your choice. Drop us a line with any additional information to be added.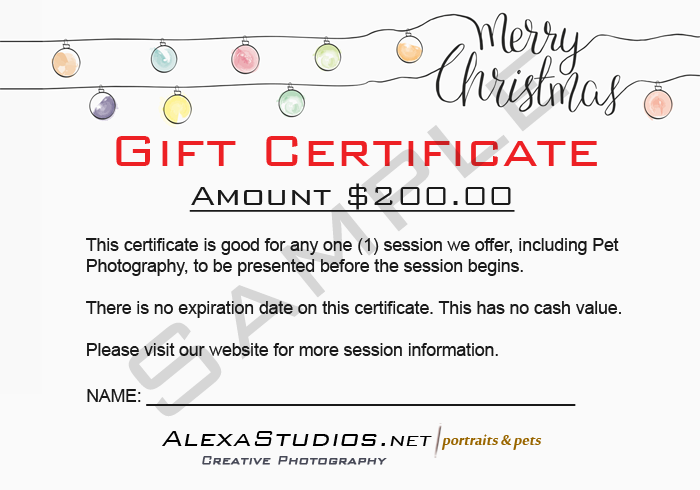 If you prefer a specific amount, not showing, please use the above contact link and let us know what you need. We are happy to make a special option available to you.
All certificates are available only through this website, via this page and redeemable for any service we offer.
Thank you and have a wonderful celebration!