Gift certificates are now available at Alexa Studios. There is a $0.75 cent surcharge on all gift certificates. There are NO refunds on the certificates, they may only be exchanged for any photographic service we offer. Our certificates do not have an expiration date.
Special Holiday offer!
Purchase a Gift Certificate and receive an additional $25.00 face value, this pertains to any domination purchased.
For instance, if you purchase a $50.00 gift certificate, the face value on the certificate will read $75.00.
This offer expires January 31, 2017. Perfect for Christmas or Valentine's Day.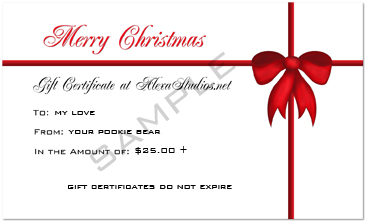 If you need a specific amount, not showing, please use the above contact link and let us know what you need. We are happy to make a special option available to you.
Gift Certificates are none refundable and only apply to services we offer at Alexa Studios and through OwegoPhotographer.com (pet photography)
Gift Certificates may not be exchanged for their cash value.
All certificates are available only through this website, via this page.
Thank you and have a wonderful holiday!