While on a photo trip to *The Phelps Mansion Museum, set up by Gregory Milunich and Josuha Lasky, both are Binghamton photographers,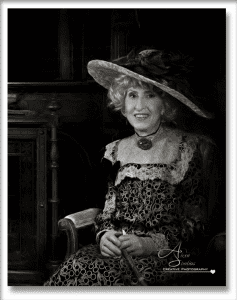 I had the pleasure of meeting Margaret Messana. Margaret was dressed in what I saw was Vintage type clothing, (read below to find out the story behind this) and was roaming around the museum, chatting with the visitors and posing for pictures. I managed to get a few shots of her at the museum. However, shortly after this little trip, Margaret came to my studio for the photo shoot of her life. Margaret was great to work with, easy to pose and so much fun. We both had a great time!
Here is a short interview with Margaret:
Alexa Studios: Tell me a little bit about yourself Margaret
Margaret: I was born in Winterdale, Pa. at my grandmothers farm. We lived in Hancock, N.Y., and in Binghamton, N.Y. for about 2 years, I was in Binghamton for 6th and 7th grades. One of my most fond memories I have was for my 6th grade graduation from Nimmonsburg school. My mother took me to every store in Binghamton where I finally found a dress at Lobells that I loved. I could still describe that great dress today….it's embedded in my memory.
Eventually, we moved back to Hancock, N.Y. and it was amazing, we were able to buy the same house we had lived in before moving originally.
Alexa Studios: I understand you are married to a great guy by the name of Jerry, how did the two of you meet?
Margaret: I met my husband Jerry when I was a Senior in High School and he was home on leave from the Navy. I was hanging out at John's candyland (a place my father wanted me to stay away from) and Jerry came by. A friend of ours introduced us. It was love at first sight. We were married right after I turned 18 and still happily married today.
Alexa Studios: What was your lifelong dream?
Margaret: I always wanted to be a model. When I was a senior we had to write a report on what we wanted to be when we graduated. I knew my teacher would not be happy with my aspirations to be a model, so I wrote about being a secretary, which is something I never wanted to be. Modeling was always my dream.
Alexa Studios: How did you get involved with the vintage scene?
Margaret: Around 11 years ago I was invited to a tea at St. Maria Goretti Church to hear a lady speak about The Victorian era. She was dressed in all authentic clothing from the era and had interesting items to show. I joined the group and started purchasing my own collection of original clothing, jewelry, hats, gloves, purses all the items I would need to do it right.
When I started dressing in the beautiful fashions of the early 1900's it was like living my dream, of being a model.
The first event I went to was The Slifer House in Lewisburg, PA, where they were having a display of all mourning items and customs from the Victorian Era. We went to many Teas and had our meetings at The Frederick Stegmaier Mansion in Wilkes Barre, Pa. I was involved in that for about 2 years and then a group of us decided to split and create our own group, since we all wanted to do events to benefit others.
We had three large fashion Shows to benefit The Cancer Society, and others included, events for nursing homes, Sophia Coxe Foundation, Eckley Miners Village, The Phelps Mansion Museum, some churches, or any organization that needed help, at no charge to them.
We hired a mini bus to take us to N.Y.City, to see Death Becomes her, and also to The Downtown Abbey exhibit in Delaware. To this day, we still attend Teas and functions and go to places where we feel we fit in.
Alexa Studios: How does Jerry feel about you dressing up and volunteering your services?
Margaret: Jerry never minded me going with the ladies and he was my dresser. You can't get in the dresses alone, some of them are very hard to figure out. The hooks are impossible to do on your own, especially, since my body doesn't bend that way. Jerry has always supported me with things I wanted to do.
Alexa Studios: What do you do with all the photos you have from these events?
Margaret: I have around 30 albums of photos, a little bit from every event I have been involved in. Many times I have said, "When I could no longer participate I will still have my photos to look at".
Alexa Studios: Does your group have a name?
Margaret: Yes, Queen Victoria's Court
Alexa Studios: If someone wanted to join your group, who would they contact?
Margaret: I would be the contact person at jezzy6@aol.com. Anyone interested would need to own original Edwardian clothing, no reproduction clothing is allowed. Each individual is responsible for providing their own transportation, although we do car pool at times. They must also be responsible for paying their own way when necessary. If anyone would like more information, please contact me directly.
Thank you Margaret for the great interview!
We also had some fun with a dance pole!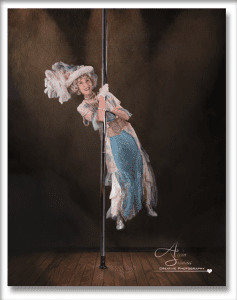 *The Phelps Mansion Museum is a great place to visit, located at 191 Court St., Binghamton, NY.